Bali an island which is there on everyone's wish list nowadays. Beautiful scenery, amazing weather and warmth in the people make the place worth your visit and memorable. Here are 6 things to do in Bali:
Tegalalang Rice Fields
Located in Ubud, Tegalalang rice terraces is a beautiful valley to visit. There is a marketplace setup and the activity lovers can fulfill their needs by going for the Jungle Swing. These are huge swings, from which one looks down can only see the valley beneath.
Advice: Try and visit this place in the first half and a single ride of the swing would cost around 100,000 Indonesian Rupiah almost 500INR.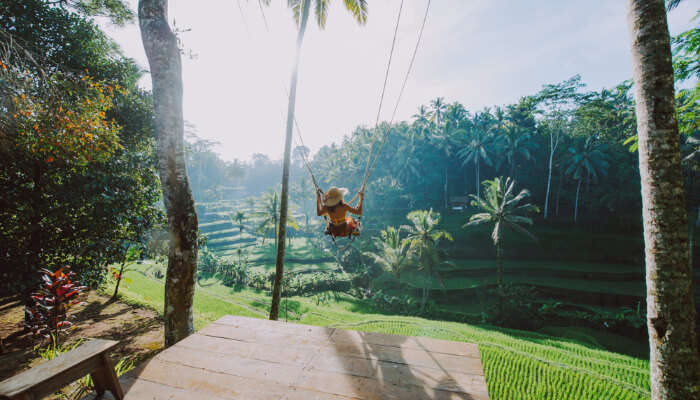 Scared Monkey Forest
Located in Ubud, the Monkey Forest is a tropical rain forest with tall trees forming a canopy and keeping the whole area cool. The forest comprises of 3 temples, and is home to more than 700 monkeys.
Advice: Keep this in the first half of your itinerary
Tirta Empul Temple
This temple consists of holy spring, where the Balinese Hindus go for purification. Whenever you visit you can watch the natives perform their rituals and explore the huge temple compound.
Advice: You will have to take the sarongs (long skirts) from outside the temple, they are free of charge but a must thing to wear for entering the temple.;
Mount Batur
An active Volcano, with an elevation of 1,717 meters, Mount Batur provides a scenic view with mountain range on one side and a lake on the other. There are cafes and restaurants along the road that provide a beautiful view of the same and one can even enjoy their food. One can also go hiking on this mountain and can hire guides.
Nusa Dua Beach
It is one of the main beaches in Nusa Dua and several high end resorts span and are accessible from this beach. A white sand beach with calm, blue waters is perfect for swimming and snorkeling but a s you go farther the waters are playful and great for surfing. If you are an early bird you will for sure enjoy the crimson sunrise from this beach.
Uluwatu Temple
The Uluwatu temple uis know for its Kecak Fire Dance which is more of an enactment of the Ramayan. So it is basically a group of people who are storytelling in the from of dance. Basis my experience it is a must thing to do.
Advice: Ticket fee for Kecak Dance is IDR 100,000 per person can be purchased in advance, and arriving early is advised, and the stage has limit space or seating. We recommend getting to the stage early before 5 PM to get the best seats.